Hey CAGGERS!!
Can you believe the summer is practically over?! I'm still holding on to the last couple weeks even though fall is basically here. (LOL) I had an amazing summer 16! However, my pockets took a hit because I traveled nonstop over the last 12 weeks. As a result, I've been trying to find ways to stop spending so I can rebuild my savings. One area where I spend & waste WAAAAY to much money is food.
I typically eat out for most of my meals and on average spend about $15-$20 a day on food.(That's almost $600 a month!) I'll be the first to admit that I HATE cooking. However, when my friend sent me this article on how to make a week's worth of Vegan Lunches with $15 worth of groceries from Trader Joe's, I HAD to try it!
Check out how my frugal experiment went when you read the rest.
I think there is a huge misconception that it costs a lot of money to eat healthy and even more to adopt a Vegan diet.  Initially, when I became Vegan I would agreed totally agree with that perception.  I started my Vegan journey with a plant based diet using the 22 Revolution Book.  Now that I have a pretty solid Vegan staple arsenal it doesn't cost much at all.  My issue is I hate cooking and prep time.  Ain't nobody got time for that!
I was very eager to try this $15 experiment because 1. It was cheap, 2. Prep Time was minimal and 3. None of it required me to turn on the stove or oven! In addition, it's plant based which I'm excited about because I was eating like crap for a while! (Yes vegans can eat like crap! OREOS ARE VEGAN!)  My biggest concern was would this be enough food for me.  Here's my quick and dirty review and recommendation for how to attack this challenge.
Did my groceries cost $15 from Trader Joe's?  YUP!  In fact, it cost me a little less because I already had some stuff at home.  Also, this experiment assumes you already have olive oil and your own spices so if you don't it will cost a bit more than $15. (Maybe $25 your first go round if you don't have olive oil and spices.  Still not breaking the bank)
 Did I get 7 Vegan lunch meals out of the deal?  The answer is YES! There is more than enough food to make 7 meals and I didn't think that was possible because I eat a lot!
Were you still hungry after the meal?  Hell yes! I'm always hungry though. lol  Surprisingly, the salads were more filling than the sandwiches though.  I wasn't hungry after I ate the salad but I was hungry after sandwiches so I ended up making salad.
Is prep time minimal?  Hell no! Maybe I'm slow and have no organization, but these meals do not take 5 minutes to make.  They take more like 15 – 20 minutes to make.  I was annoyed! lol
Which was your Favorite Meal?  Black Bean & Chick Pea Salad.  Anything with chickpeas and avocado in it is a winner in my book!  lol
Would you try the experiment again? HECK YEAH! I plan on doing this until I get sick of it!  My objective is to save at least $200 a month in food expenses AND hit my goal weight by the end of the year.  I think continuing this frugal lunch practice will help me get there!
Do you have any additional recommendations for anyone trying this experiment? Yup! My two pieces of advice would be 1. Prep it the night before (Minus the avocado portion of the meal) & 2. Get some McCormick, Perfect Pinch, Sweet Onion & Herb Seasoning.  I put that stuff on everything!  It makes everything taste good.  Trust me, you'll thank me later.
Do you think this is an experiment you could try?  Sound off in the comments below!  I can't wait to hear from you!

Make sure you follow me on Instagram, Facebook, Twitter, Snapchat, and Periscope at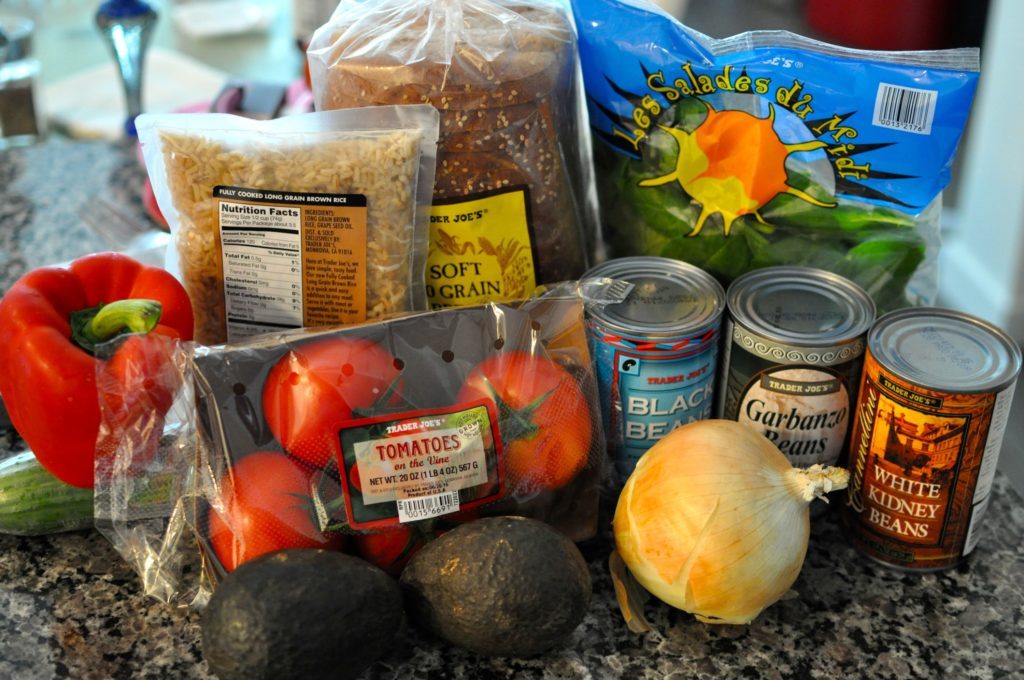 CAGREINVENTED!
Please follow and like us: